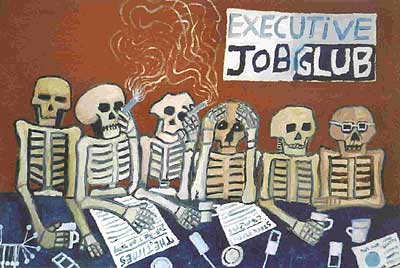 Philip Absolon
(Executive Job Club)
The BBC have released an interesting story, "
Recession shrinks UK top tax take
," in which it explains how the forty percent tax take is expected to diminish as the recession grinds on.
It explains that,
"
HMRC statistics show that the tax authorities expect the number of higher rate payers to shrink from 3.89 million in 2007-08 to 2.9 million in 2009-10.

The amount of income tax they pay is also predicted to shrink by £15.9bn in that time, from £91bn to £75.1bn.
"
The story however, doesn't discriminate between
public vs private
tax payers. Consequently, we can't tell what proportion of this tax revenue is wealth generation and what proportion is dissipation.
Bear in mind that we must have a private sector in order to sustain the public sector. If we have no private sector tax take then the public sector can only be financed by borrowing. So, without the proportions of public sector to private sector tax revenue data, it isn't possible to judge how quickly we are hurtling into debt, and hence
sovereign bankruptcy
.